These last days i've been working on Ymir's avatar customization system.
Each player will be able to compose it's avatar by combining 4 layers  (face, eyes, snout and mouth ) to create a unique porco easily recognizable by others.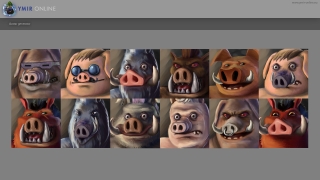 To celebrate the completion of the basic set of avatar pieces, i've created a small stand alone program called Porkator allowing you to play around with those and to create your own avatar for the forum, before you can actually make one ingame!
Porkator is available in the new "Dowloads" menu.
Ces derniers jours j'ai travaillé sur le systeme d'avatars d'Ymir.
Chaque joueur pourra composer son avatar en combinant 4 éléments ( face, yeux, groin, bouche ) pour creer un peronnage unique facilement reconnaissable par les autres joueurs.
Pour célébrer la finalisation d'un premier set d'éléments, j'ai créee un petit programme appelé "Porkator" qui vous permettra d'avoir un apperçu du systeme de creation d'avatar du jeu, et de creer votre propre avatar pour le forum, en attendant de pouvoir le faire dans Ymir!
Porkator est disponible en téléchargement depuis le nouveau menu " Downloads ".