Lots of news about the latest advancements in the game!
Another milestone is reached : the whole aspects of city management are now almost functional for alpha. There's still many bugs, but most of those preventing completly from playing the game have been solved ( and there was loads!).
Most of the buildings and resources are completed and they are now all integrated into the game itself. For exemple there's the mine, which from level 3 can possess mine shafts placed directly on deposits as an annex. On the same principle there's the quarry and claypit. There's the tannery who make clothes for our porcos. The brewery, the potter, the weapons manufacturer … A total of around 20 buildings each with four levels. Buildings production now sometimes give you the choice between several resources: an advanced tool maker can produce for example bronze tools or iron tools. There are dozens of resources each with its own graphism used for display in the warehouses. The icons of the buildings were made in a simple style, using black silhouettes representing the function of each building.
The server is beeing tested with two players ( a friend and myself ) and running successfully for the past two weeks to debug the most obvious issues.
Graphically, apart from the addition of all the buildings and resources, there is now porcos citizens walking by the streets as well as smoke and fires FXs on buildings. The system of decorative citizens is complex and based on the principle of  "missions." Depending on the total population and its constitution, a number of citizens is spawned and assigned with a mission. Although currently only one mission is made  (walking randomly across town ), there will be, at term, various missions consisting for exemple in going to the market and then back home or deliver a resource warehouse from an industry… etc..
The game is now v 0.403.
Memory management of the game has been greatly enhanced by implementing dynamic loading of sprites, which are now all stored externally to exe:  it allows an extremely simple and intuitive modding. Simply edit the files (. png) and reload the game to see the changes. I would advise not to inspect these folders at the beginning of the game to avoid beeing spoiled seeing all the high level buildings!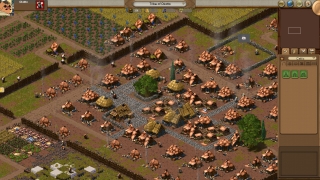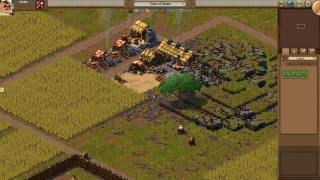 Beacoup de nouvelles sur les dernieres avancées du jeu!
Une nouvelle grande étape a été franchie : tout l'aspect Gestion de ville est désormais à peu près fonctionnel pour l'alpha. Il reste beaucoup de bugs, mais la pluspart des problèmes majeurs empêchant complêtement de jouer ont été résolus.
La pluspart des bâtiments et ressources sont terminées, et ils sont maintenant tous intégrés au le jeu lui même. On trouve par exemple la mine , pouvant a partir du niveau 3 posserder des puits de mines  placés directement sur les gisements comme annexes. Sur le meme principe il y a la carriere et l'exploitation d'argile. Il y a les tanneurs qui fabriquent des vêtements de peaux pour nos porcasses. La brasserie, le potier, le fabricant d'armes… Au total une vingtaine de batiments comptant chacun 4 évolutions. Les batiments de productions ont désormais parfois le choix de plusieurs ressources : un outilleur avancé peut par exemple produire au choix soit des outils de bronze ou des outils de fer. Il y a plusieurs dizaines de ressources possédant chacune ses propres graphismes pour l'affichage dans les entrepots. Les icones des batiments ont été faites, d'un style simpe et fonctionnant par silhouettes noires représentant la fonction du batiment.
Le serveur est en phase de tests avec 2 joueurs ( moi meme et un ami ) et tourne avec succès depuis maintenant 2 semaines pour procéder au débug le plus grossier.
Graphiquement, mis a part l'ajout de tous les batiments et ressources, il y a maintenant enfin des porcos citoyens qui déambulent dans les rues ainsi que des FX de fumées et feux de camps sur les batiments.  Le systeme de citoyens décoratifs est complexe, et repose sur un principe de "mission". En fonction de la population totale et de sa constitution, un certain nombre de citoyens est spawné, et il lui est attribué une mission en rapport.  Bien que pour le moment la seule mission soit de ne faire que marcher au hasard des rues, il y aura a terme des missions consistant a aller d'une maison a l'autre, se rendre au marché et rentrer, livrer une ressource a un entrepot… etc.
Le jeu est désormais a sa version 0.403 .
La gestion de mémoire du jeu a été grandement optimisée en mettant en place un chargement dynamique des sprites, qui sont désormais toutes stockées de facon externe au .exe : cela permettra un modding extremement simple et intuitif, ou il suffit de modifier les fichiers ( .png ) et de reloader le jeu pour constater les changements. Je vous déconseillerais cela dit d'aller inspecter dès le début ces dossiers, au risque de vous spoiler tous les batiments des niveaux supérieurs!